The Gemstone for February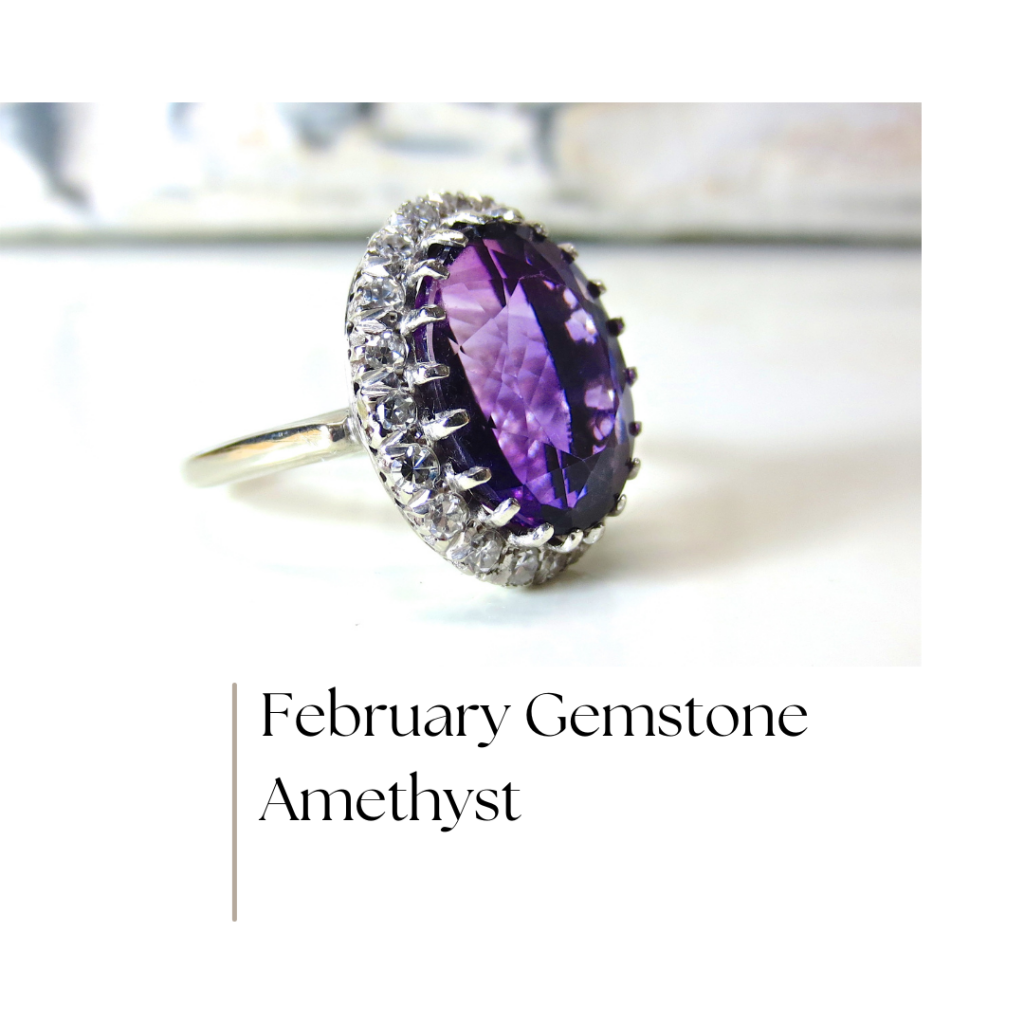 February's gemstone is Amethyst, which symbolizes royalty and splendor. Amethyst gemstones are made of iron dioxide, which gives them their rich purple color. They tend to be transparent but can have inclusions like those of diamonds. In fact, many years ago, amethysts were regarded as similar in value to a diamond, and many members of the Christian clergy wore them as a symbol of protection. Amethysts are one of the strongest gemstones found primarily from mines in Brazil, USA, Canada, Australia, France, Russia, Madagascar, and Uruguay.
Fast Facts About Amethyst
Amethyst stones can come in a variety of sizes and shapes. One record reports that an amethyst stone was as large as a compact car!
Amethyst jewelry is historical! Pieces that have been found have been dated as early as 2000 BC.
Many years ago, the most common uses for amethyst were to provide protection from evil and poison.
Crystal healers believe that amethysts can cure headaches, help you find inner peace, regulate hormones, improve endocrine function, promote digestion, and enhance the immune system.
Most amethyst gemstones are cost-effective because of their availability.
If an amethyst gets too hot, it can actually lose its color!
Amethysts are the traditional sixth wedding anniversary gift.
The crystal structure for an amethyst is hexagonal.
The amethyst is the zodiac birthstone for Pisces (Feb. 19 – March 20), and the natural birthstone for winter solstice (Nov. 21 – Dec. 20).
For centuries, amethysts have been used in crowns, scepters, and jewelry by the royal family.
Amethyst is known as a gemstone that encompasses loving energy.
Amethysts can be worn as jewelry, kept in your purse or pocket, or placed around your home. However you choose to appreciate February's gemstone, we hope you will consider stopping by Munchel's to find the perfect one. With an extensive and exclusive selection of gemstones and fine jewelry, Munchel's Fine Jewelry can help you eliminate the guesswork and find the perfect piece.
About Munchel's Fine Jewelry
Munchel's Fine Jewelry Inc. is a family owned and operated business. We have been proudly serving Central Florida with quality jewelry and services for over 30 years. Our commitment and dedication to our customers is what sets us apart. We offer a large selection of jewelry and collectible items, including coins, watches, lockets, and necklaces. In addition, we also buy, sell, and trade many types of timeless pieces. For more information, please contact us at (863) 619-6269 or visit our website at Munchels.com/.